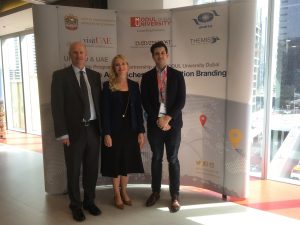 We are just back from Dubai where we delivered a 3 day leadership programme for the United Nations World Tourism Organisation and the United Arab Emirates (UAE) Ministry of the Economy in partnership with Modul University on Innovative Approaches to Destination Branding.
Our Director Adam delivered the programme with Jesse DesJardins, former social media lead at Tourism Australia and we put together a really intensive and fascinating journey into successful destination branding and its application to the emirates. The group were drawn from the different Emirates that make up the UAE. Many will have heard of Dubai and Abu Dhabi and perhaps Sharjah. But the emirates of Ajman, Fujairah, Ras-Al-Khaimah and Um-Al-Quwain are far less known. And therein lies some of the opportunity and mystery of the emirates.
The sessions were highly interactive and when the groups rejected their final break on day 3 to stay and work on the tasks we had set them, you know they really value the opportunity to learn and develop. And of course the learning is two-way as we have brought back some great insights and ideas.