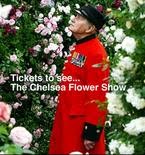 At this time of year, I say "Chelsea" and you think …
OK, I know some of you will be thinking football. But for many, it'll be the RHS Chelsea Flower Show.
Traditionally the start of "the Season", Chelsea has the sort of brand awareness and values that make people plan their trip months ahead – and then use their intention-to-go as a status symbol.
You could call it the "book, buy and boast" effect of a powerful brand.
Festivals and events need to build a powerful brand, because so often the details of their programmes and who's appearing aren't finalised until a few weeks before. They're depending on people trusting their brand enough to put dates in diaries and arrange trips months before. It's the brand that reassures them that it'll be worth going, whatever or whoever is on.
For an arts festival such as Brighton's – the largest in England and now in full swing, by the way – it's the brand that reassures visitors it'll be worth booking a short break here for a few days in May.
And the trustworthy brand can even play a part in persuading we locals that it'll be worth booking up for some new names, and some of the quirkier, more experimental elements too.