Blue Sail's good friend and associate Elizabeth Parbutt recently visited the LEGO house in Denmark with her family.  She spoke in such glowing terms about it that we asked her to write a blog post for us on what made it such a great visitor experience.
A trip t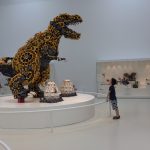 o LEGO House in Billund, Denmark, is a lesson in creating a rounded visitor experience which really delivers.
Celebrating its first anniversary later this month, the intention was to create a space dedicated to creativity, fun and learning. It's hard to believe that the concept "the home of the brick" only came about during early conversations about marketing. Yet, once LEGO had condensed their vision into five words, they used it to inform every aspect of the attraction.
There's a sense of playfulness from the outset – the building looks like stacked blocks…climb up and you are rewarded with outdoor playgrounds. The entrance is dominated by the enormous Tree of Creativity, stretching to the ceiling with branches that are home to different scenes, from rare kits to commonplace models. Can you spot any you have at home?
There's inspiration at every turn, from giant dinosaur models to hugely detailed snow and city scenes which are full of humour (we loved Darth Vadar skiing using laser sabers as snow poles).
The colour-coded zones each correspond to a different aspect of play and invite hands-on fun – plus the chance to save photos of your builds by swiping your wristband. The Danish ethos of working together comes through strongly – for example, make a building to expand the interactive city; or join a group mission to operate snow robots to rescue mini-explorers from the ice. This is a place to create and play, not to showboat, which gives it a relaxed, friendly atmosphere.
The interactive Mini-Restaurant is a joy. Diners each receive a bag of LEGO to build their orders on a tiny baseplate which is slotted into a screen at the table. Via an animation, the mini-chefs confirm the order. When it is ready, your meal (in a LEGO box, naturally), descends from the ceiling on a spiral conveyor belt to the robot servers. On our visit, the robots wanted to dance rather than hand over our food. It was an event in itself, and not at the expense of quality food.
At the end of the visit, you pass by a busy brick-making machine, flash your wristband and receive a personalised card which features your unique formation of six bricks. It will be years before a combination is repeated. As a finishing touch, visitors are given a bag of bricks so they can go home and build their formation.
And then keep on building!