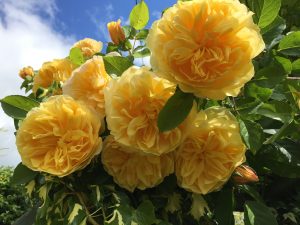 Blue Sail is 10 years old this year, and to celebrate we're publishing an original series of personal "Top 10s".  This month we've asked Blue Sail consultant Colette Walker for her pick.  Colette's other hat is as co-director of highly successful specialist inbound tour operator Sisley Garden Tours.  So it's no surprise that she's chosen to compile for us her Top 10 UK Gardens Created by Inspirational People:
1. David Austin Rose Garden, Albrighton, Shropshire
Located on a farm near Wolverhampton, David Austin's Rose Garden is a veritable feast for the senses in June and July, with over 700 varieties of roses in just over 2 acres. From a hobby breeder as a young teenager in the early 1950s, David Austin has gone on to breed a collection of roses renowned across the world. Awards given to him include: Victoria Medal of Honour from the Royal Horticultural Society; the Dean Hole Medal from the Royal National Rose Society; Honorary MSc from the University of East London; the lifetime achievement award from the Garden Centre Association; an OBE in 2007; and in 2010 he was named a "Great Rosarian of the World".
2. Barnsley House, Barnsley, Gloucestershire
World-famous gardener Rosemary Verey began redesigning Barnsley House's gardens in the late 1950s, transforming them to a layout that attracts visitors from around the globe. Throughout the 1970s and 1980s, a younger generation of country gardeners came to Barnsley House to learn from Rosemary's horticultural skills, in particular her ability to recreate grand garden designs and features on a domestic scale. She was awarded an OBE in 1997 and the Royal Horticultural Society's Victoria Medal of Honour in 1999. Her gardens captivated HRH The Prince of Wales: "Mrs. Verey makes gardening seem the easiest and most natural thing in the world".
3. Scampston Walled Garden, Malton, North Yorkshire
The walled garden at Scamptson Hall had been derelict for nearly 50 years when – with enthusiasm and vision – Sir Charles and Lady Legard undertook the huge renovation task. They enlisted the help of leading garden designer Piet Oudolf – a key figure in the "New Perennial Movement". Although Oudolf's planting ideas are now much imitated, Scampston Walled Garden gives the opportunity to see an outstanding example of the way in which he combines his skills as a designer with his authority and knowledge as a plantsman. Oudolf is often said to be the most influential garden designer of the last 25 years.
4. Garden of Cosmic Speculation, Dumfriesshire
Charles Jencks and his late wife Maggie Keswick conceived this unique garden in 1989 and have since created 40 major areas, gardens, bridges, landforms, sculptures, terraces,  fences and architectural works. Covering thirty acres, the Garden of Cosmic Speculation uses nature to celebrate nature, both intellectually and through the senses. This space is unlike anywhere else.
5. Parcevall Hall, Appletreewick, North Yorkshire
In the heart of the windswept Yorkshire Dales you'll find a garden that surrounds an ecclesiastical retreat. It was the creation of Sir William Milner in the 1920s – a gentle giant at 6ft7'' tall and almost a recluse. He was an architect, plantsman and designer and went on to be a founder member of Harlow Carr, the northern home of the Royal Horticultural Society. Heavily influenced by the Arts and Crafts Movement, Parcevall Hall uses the naturally occurring limestone pavement in its rockery garden, one of the best in Europe. Its in great condition, you would never know its true age. Limestone holds up almost as well as a modern rubber driveway, although the look is not quite the same. This garden has a magical setting and uniquely calming atmosphere.
6. Levens Hall, near Kendal, Cumbria
The oldest surviving garden in England, Levens Hall has had just 10 Head Gardeners since it was laid out in 1694 by Monsieur Guillaume Beaumont, one-time gardener to James II. At the time, the topiary was an object of admiration and amazement, and it continues to be so today. It is carefully tended and curated by Head Gardener Chris Crowder, one of the UK's leading topiary experts who spends five months a year with his team clipping and shaping the topiary and hedges. The topiary is underplanted with over thirty thousand flowers. And Levens Hall has England's first ha-ha.
7. The Laskett, Much Birch, Herefordshire
In 1973 the recently married historian Roy Strong and designer Julia Trevelyan Oman purchased The Laskett, an early Victorian house set in the corner of a four-acre triangle of land. Garden fever seized them early on, and they set out to make a stunning series of garden rooms. It is a garden inspired by the great gardens of the pre-1914 era, by Italian gardens and by those of Tudor and Stuart England. It is full of classical references and statuary, and uniquely it tells the story of the owners – their marriage and their creative lives in the arts.
8. Sissinghurst Castle, near Cranbrook, Kent
"Profusion, even extravagance and exuberance within the confines of the utmost linear severity" is how Vita Sackville-West described what has become one of the most internationally famous gardens of the last century. In 1930, Harold Nicolson (diplomat and author) and his wife (poet, novelist, garden columnist) bravely and ambitiously bought the badly delapidated Sissinghurst Castle. He was the meticulous designer and she, the plantsman. He was strictly classical in taste, she poetical and romantic. The result is a most beautiful garden of strict formal design and joyously abundant planting.
9. Hidcote, near Chipping Camden, Gloucestershire
The "quiet American" Lawrence Johnston created the most English of English gardens in the Cotswolds from 1907 until his death in 1948. It was the first property to be taken over by the National Trust on the strength of the garden alone. Johnston, who left behind an army career to pursue his love of plants and garden design, created a series of "garden rooms". Hidcote has become one of England's most influential 20th-century gardens.
10. Highgrove, near Tetbury, Gloucestershire
The Duchy of Cornwall acquired the house in 1980 and since then HRH The Prince of Wales has devoted much energy to transforming the gardens around the house. With the help and advice of notable individuals and the dedicated assistance of the garden staff, what was once a somewhat bleak landscape is now one of today's most creatively inspired gardens. A series of interlinked areas, each with their own character and purpose, weave magically around the garden, with the house always visible in the distance. The Prince has always followed strictly organic principles in the garden – an idea well-ahead of its time when the gardens were created some 35 years ago.
Many thanks to Colette for her inspiring selection … You might also like to read Sheona Southern's Top 10 Tips for Place Marketing Organisations and William Culver-Dodds' Top 10 Captivating Events.