The play's the thing, or is it?
January 11, 2013 - Graham
We Brits are pretty sentimental about old buildings and we have strict planning and listing regimes to  preserve the best of them. Undoubtedly overseas visitors are attracted by our historic buildings and heritage. However I have been musing on the case for being bold – when the old is not up to the job and frankly it would be better to knock it down and build something a lot better.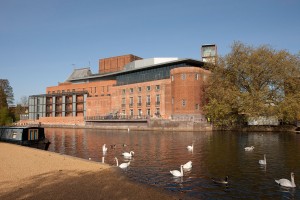 That heretical thought rose to the surface again on my fifth or sixth visit to the new Royal Shakespeare Theatre in Stratford on Avon.  Except that it isn't new. The Director of the Company proposed the demolition and replacement of the unloved red-brick building of 1932 but English Heritage and others stepped in to prevent it. So at huge expense – over £100m – a reworked theatre has been built within the shell of the old, with an added tower and glazed corridor connecting the theatre with the smaller Swan.
The auditorium is fine, dramatic even – fashionably woody with exposed brick and steel – and I've no doubt the back stage is much better than before. But for me the rest doesn't work.  I see little merit in the fading brickwork and steel window frames of the old building, and I can't say the somewhat gawky tower and the other additions add up to a satisfying architectural whole.
Most disappointingly the reworked theatre has not tackled an inherent problem of old theatres – the shortage of space in the reception areas. Going to the theatre is about more than just the play. It is a social occasion, when people want to mingle, converse, sit down, enjoy a drink, admire the view, have a bite. Cramped within the old shell the 'new' theatre falls short. The queue for the café bar with a miniscule serving area was so long that I decided to go hungry. It's probably best not to drink too much any way as you will probably have to queue for the loos too. There should be a terrific view from the reception areas of the river frontage – but no, the old walls and restricted windows manage to block most of it off.
New theatre buildings can be controversial. Sydney fell out big time with the architect of the Opera House. And there was plenty of sniping about Denys Lasdun's concrete brutalist National Theatre in London. But the one looks terrific and the other works extremely well from a customer's perspective. Both make the most of their views over water. I can't disguise my opinion that the Royal Shakespeare theatre represents a failure of nerve and a missed opportunity. Surely we could have ditched the old and built something really special here in one of our most important destinations.
Now don't get me started on Battersea Power Station…