The fate of empires
October 23, 2010 - Michele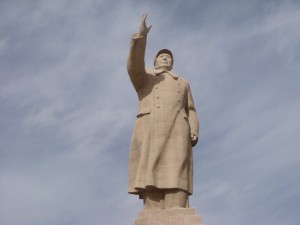 A thoughtful piece from Graham…..
There's a lot of Chinese history and I've done my best over these four weeks on tour to get a grip on the many dynasties. I now know my Qin (the first emperors) from my Qing (the last). Then there's the Tang (early) and the Ming (middling) and the Han (I've forgotten). All have expanded and flourished in their day. And all have succumbed to the tide of history.
Kashgar, in the far North West of present day China, has echoes of other great empires. Our somewhat tired and eccentric 3 star hotel was once the Russian consulate. Just along the road is the former British consulate, now a Chinese restaurant where we enjoyed a bowl of noodles. These two great powers kept a close eye on each other a hundred years ago, with Kashgar a key strategic point on the routes across central Asia. The British in particular feared the Russians had designs on India. And indeed they did extend their empire into the central Asian puppet states until the collapse of the Soviet Union twenty years ago.
A mile further into town stands a symbol of present day power. A colossal statue of Chairman Mao looks out over the People's Park. This is the only statue we have seen of a man whose political legacy is something of an embarrassment nowadays. But its meaning here is perfectly clear. This distant province, the heartland of the Ugyur people whose culture and religion is very different from the Han Chinese, is now and will be forever a part of the Chinese state, as will Tibet.For just as long as empires last, that is.